Airbnb Super Host:
Awarded 14 times in a row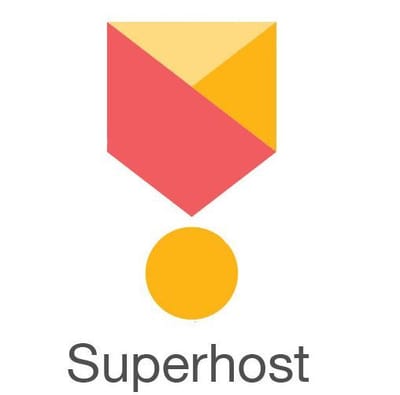 Jon - Dutch Barge:
Seamless from an enquiry to booking in a short space of time . A truly unique property so close the to the restaurants and pubs and all else that Sandwich has to offer . I have never worried about tide times when staying in a town before but was great fun watching the river rise and fall on the bow . Archie is a fantastic host with loads of great touches on board to make us feel welcome. The dog is missing his comfy bed already . Would not hesitate to recommend to anybody who needs accommodation in the area . Safe car parking and a foodie paradise , all within a stones throw of the barge . Diolch guys it was a blast
Kevin - Dutch Barge:
This Dutch barge is a real home from home. It's a unique, cosy retreat in a great location. Sandwich is a very picturesque village with plenty of restaurants, pubs and local shops within a short walk of the barge. Archie and her partner were great hosts, making us feel very welcome and providing many thoughtful touches. This was a last-minute booking for us, a family of four plus dog, and our hosts went out of their way to accommodate the booking. We all had a great time and we're already planning a return visit.
Hew - Dutch Barge:
Smack bang in the middle of Sandwich but totally private and a truly unique spot.
Mostafa - Dahab Apartment:
As always Archie's place is my favourite destination in Dahab, I loved the new amenities including the TV, new sofa cover, books and new decorations all over place..if you are looking for a quite and relaxing vacation. Then this is the perfect spot for you.
Ahmed - Dahab Apartment:
Archie's place is just beautiful! It's well organized, peaceful and perfect for anyone looking for a relaxing stay. It combines the natural beauty of the sea and the mountains and at the same time it's very neat and comfortable (airconditioned, fully equipped kitchen, comfortable bed, clean bathroom ) The location is not so close from downtown but transportation is easily arranged. There is easy access to the beach and nearby diving center where you can enjoy diving/snorkeling in the canyon reef and it's not crowded like the blue hole. The staff in the resort were very helpful and friendly and the restaurant serves authentic Italian food. On top of all of this, Archie was the ideal host in terms of responsiveness, helpfulness, and she made us feel like we were staying at a friend's place. We recommend this place to anyone looking for a peaceful getaway (friends, couples, or even solo adventurers). We are definitely going back there very soon!
Anna - Dahab Apartment:
Simply it was heaven!!! Location surrounded by mountains and sea and it's perfect place for people searching for relaxation and want to be on another spot of the world. Archie communicated with us once we booked and she gave all needed information about everything and contact numbers of people who helped us there. She always was contacting s to make sure that everything is OK. We had a perfect stay there like in paradise!!! Chukran Archie for everything, for sure we will comeback again ❤️
Nick - Sea View:
This place is absolute perfection. The location is perfect - secluded towards the quieter end of town but close enough to all the fun stuff to do in Margate. Bedrooms are clean and nicely decorated. Most importantly the beds are very, very comfy. The living room is the perfect place to hang out - you can see the sea from the sofa! It also has every entertainment device you could ever want. (Netflix, Smart Tv, Bluetooth speakers) Archie is literally a perfect host; from beers in the fridge when we arrived to her driving to Halfords to pick us up some jump leads for the flat battery on our car - nothing is too much effort. If you are reading this to make up your mind whether or not you should book the answer is a resounding yes.
Abbi - Sea View:
I want to move in! Margate was a great weekend escape - so much to see and do for all ages. Archie provided a binder full of local information and I could have busy there for weeks. The neighbours are lovely, the sea view from the living room is just divine - the beach is less than 50m from the front door. The flat is in a quiet cul-de-sac with no passing traffic - 3 mins walk from the station, and there is parking if you are driving. The flat itself is all brand spanking new, very clean and comfortable (I have asked for a link to wherever the pillows come from as they are super cosy). I slept like a log. The shower is good. Wifi and TV all work well although I was barely using either. Kitchen well equipped. Whilst you may spend a lot of time out on the beach, the flat has a great garden with hammock and a lot of comfy seating plus a BBQ. Archie's comms were great - she is very friendly and helped with every aspect of my stay. Quick to respond to messages and questions. I would highly recommend the Bus Cafe for breakfast - 2 mins walk, delicious food served in an old London bus. Whether you want a quiet weekend get away or a fun time with the family this is the place!
Miles & Sarah - Trinity Square:
We booked Artists residency as a family of five, two adults and three children under the age of 10. The place was perfect for us. It's huge way bigger than we thought it would be, think because the ceilings are just so high! Loved the bold colours in the place, really cool interior designed, great attention to detail. You can tell that an artist owns the place. Really liked your art Archie :) The views of the sea from the living room and kitchen are just beautiful. We also got a sea view from the master bedroom when the neighbours opposite had opened their curtains! What a treat from our bed, we didn't want to get out, so comfy too. The kids totally adored the mezzanine bedroom! It's such a cool space for a gang of kids and even though they were up most night nattering and playing on their Ipads we couldn't hear them at all. Really loved having our own ensuite bathroom. The family bathroom was perfect for the kids, lots of space and loads of towels. Really liked the electric fire, nice atmospheric effect at night. The kids liked the remote controlled candles in the lanterns too. Really well-equipped kitchen, not that we did that much cooking because we treated ourselves and ate out a lot :) The location is great too. Parking was easy right outside. A little stroll down into Old Town, really close to the beach, we went to Walpole Bay and also to Margate Main beach. Kids loved Melt ice cream place, we went every day. Highly recommend! Archie thank you SO much for such a fabulous stay in your home, we just loved it!! We'll definitely come back again!
Martin - Dutch Barge:
Superb accommodation in an idyllic setting. The barge was warm and snug for our New Year break and I would imagine that it would be equally as amazing during the summer months. Everything is on your doorstep, from a delicious breakfast at the Beach Hut Café to plenty of welcoming pubs and restaurants. Sandwich is a lovely wee town and a perfect place to spend Hogmanay. Archie couldn't have done more to make us feel more welcome and she's a fantastic host and all round lovely person.
Charles - Dutch Barge:
What an amazing barge and a fabulous experience in the most idyllic location. Archie was a superb host who made a special treat for our grandson's birthday a real treat for us all. The barge is quirky and stylish with the most amazing outside deck area, which is magical when lit up at night. The location surpassed our expectations and a really great time was had by all. We very much hope to return! Thank you Archie.
Clare - Dutch Barge:
Amazing weekend on the barge, our second stay and as always Archie was a fantastic host. It was a very cold weekend and Archie made sure the barge was lovely and toastie before we turned up which was very much appreciated. Would highly recommend to anyone who wants to get away from the hustle and bustle of life and totally relax and chill
Alex - Dutch Barge:
My husband and I, plus our three young children, stayed on this gorgeous dutch barge recently. It's such a fun thing to do and the children loved every second of it. The boys were fishing for eels (if you forget your bacon/cheese bait, then Archie was happy to share hers), our daughter was feeding the ducks and my husband and I were sitting on the top desk enjoying a delicious glass of wine - bliss! The barge is brilliantly located near the town centre which meant popping in for bits'n'pieces was really easy, and we went out for our breakfast in the lovely little cafe at the entrance to the marina. We couldn't have had a lovelier time, Archie was super friendly and helpful and we'd love to go again. A fab way to see Sandwich!
Amy - Dutch Barge:
This was our first stay on a barge and we were ready for anything. What we found was a warm, cozy home that could have passed for a cabin in the woods if you didn't look out the port holes - so peaceful. The space is well lit and well stocked - even bubbly in the fridge which we enjoyed with local fish and chips. The location was ideal for exploring town. Archie was so gracious, greeting us with a hug after a long Friday night drive from London. Archie makes it clear in the posting that you need the ability to navigate a gangplank - and proper shoes for a boat - to get in...but it's easy after the first try. We brought a very determined old dog who can be easily lifted to the top of the sea wall, but she actually showed us that she could do just fine without us by walking down the sloped sea wall from/to the gangplank. :) Thanks for a great adventure, Archie!
Nikitas - Dutch Barge:
We definitely recommend staying at Archie's place in Sandwich. The barge is located very centrally with the town centre being a very short walk away. It is roomy, spotless clean, warm and contains all amenities that a guest might need. We never stayed in a barge before and were very pleasantly surprised by how homey it was. Archie is very friendly and quick to respond to messages. She went the extra mile of providing little extra touches like nibbles and drinks and gave us detailed information on where to find parking and how to find the barge. It's a very dog friendly place and our little doggie had a great stay.
Isla - Dutch Barge:
I cannot praise the beautiful barge and hosts Archie and Simon enough. The barge is amazing. It is very spacious, comfortable, homely, everything you need, really thoughtful touches, an incredible location, a magical escape. Archie was very fast to respond, she picked me up from the train station, went way above and beyond helping me with local information and settling in. Sandwich is a charming village and the barge couldn't be better located. Everyone was so friendly. There are beautiful walks nearby whether you want to go to the beach or just wander around the medieval town. There are lots of amazing places to eat but the barge is fully equipped to cook and there's a gorgeous captain's table. The bed is so comfortable and they had a special bed, treats and toys for my dog. I don't want to leave! I thoroughly recommend staying on the barge for a truly memorable escape. Archie and Simon were the icing on the cake. I've found a beautiful place to stay and made some special friends.
Patsy - Trinity Square:
This is a beautiful place, the midweek night that we stayed was quiet and we all slept brilliantly. The art supplies is a lovely touch. It's filled with thoughtful things and has a lovely cosy feel. The location was great. I would stay here again and definitely stay in one of Archie's places again. Communication was great.
Andy - Trinity Square:
A truly outstanding experience. Only a short walk into the centre but on the outskirts so it's fairly quiet makes the location perfect. The house itself was a pleasure to stay in and the supply of art and materials a lovely touch for both the kids and the adults. Archie was also amazing at getting back to any question or query before and during our stay. We will 100% be back.
Olivia - Trinity Square:
The apartment is exquisite, luxurious and at the same time very cosy and comfortable. Archie is so friendly, helpful and accommodating. It's brilliantly positioned in Margate. The kids absolutely loved it and enjoyed the beautiful arts & crafts hamper. I highly recommend this apartment and can't wait to come back!
Jamie - Sea View:
Great cosy apartment in an amazing location. The flat was extremely clean, beautifully decorated and in a great location. We had an amazing time. I highly recommend this apartment
Howard - Sea View:
Archie was fantastic, she was very accommodating and a great host. The house is beautiful, and provides everything you could possibly need! She supplied us with a travel coat for our little one, and milk and beer on arrival. She went above and beyond and would definitely recommend a stay.
Jason - Sea View:
Wow! We stayed at Sea View for my 30th birthday weekend and were pleasantly surprised at how great the place really is - the description is detailed and accurate but the photos don't do the place justice at all, it's much better in person.... Archie was a great host who was on hand throughout whether we needed something or just to stay in touch - it was nice to know she was available. She also left a bottle of cava in the fridge for my birthday which was a much appreciated touch - thank you! The location is perfect right on the beach front with several shops and restaurants within a stones throw, we only wish we could have stayed longer as we had so much fun and really felt at home in this property with all the mod cons, well equipped kitchen, Netflix, wifi, outdoor space and BBQ we really couldn't have asked for anything more! Thanks so much Archie you really made my 30th a memorable one! Hope to see you again soon whether it be at sea view or one of your other fabulous properties!xxx
Ali - Sea View:
I really enjoyed my stay at Sea View Sanctuary, it is so close to the beach and has amazing views. The apartment was beautifully decorated, very clean and comfortable. The outside area is really great and well lit at night. Archie was a great host and provided so much information prior to arrival that I settled in immediately. I look forward to visiting again and hope I am as lucky with the weather!
Bex - Dahab Apartment:
Despite having used Air B and B to host, this is the first time I've used it to find somewhere to stay on holiday and I have been so pleased with my first experience! Archie dealt with a mix-up amazingly well, was an excellent communicator throughout our trip and was warm and friendly to deal with. In terms of the accommodation, it has everything you need: comfortable bed, hot water, generously sized sofa to lounge on, functional kitchen if you want to cook and an outside area to soak up the lovely view. The apartment is in one of the closer blocks to the sea and pool so you have a better view than some of the other blocks. Would recommend for total chill-out and relaxing. Getting to town is very easy when you want a bit more noise - just call Salama on the numbers provided by Archie. Thanks Archie for a wonderful stay, I'll be back in my next break